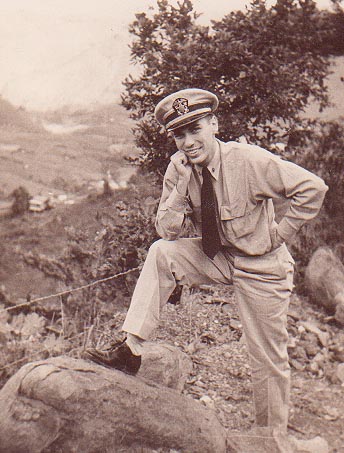 I wrote this a few years ago.  My dad, who died on 3/11/2017 at 98, still inspires me. 
My father, Eugene O. Goldstein, MD, will be turning 92 this summer.  Today, my wife and children and my brother are all flying to San Diego to visit my sister and her family for a family reunion.  My Dad and stepmom will be meeting us there.  My father is a source of constant inspiration to me and has given me a blue print for how to live a long and happy life.  They say that children learn what they live so here is what I have learned from how he lived his life and continues to live it.
1. Figure out what you love to do and do it — you'll never have to work a day in your life. My dad has had a long standing love affair with medicine.  He was a pediatrician and an allergist for 47 years in Baltimore and loved every minute of it.  His diagnoses and treatment saved children's lives both at home and in the Pacific islands of Okinawa and Guam where he served as  Navy Lieutenant during the Second World War.  Though he was in the presence of illness, bacteria and viruses for most of the day, he rarely even caught a cold.  He woke up early, hit three hospitals before getting to his office and would often make house calls after hours.  He may have been tired but he never complained.  He was doing what he loved.
2. Don't retire. After he closed his private practice, he and my stepmom moved to Florida to a gated retirement community.  For many years they played tennis, golf and bridge, went out to dinner and seemed pretty content.  What I didn't know was that my father missed medicine terribly.  He volunteered at a local clinic but they wouldn't let him treat patients because he wasn't licensed in Florida.  With out telling any of us, after being away from medicine for 14 years, at the age of 83, he studied for and passed the Florida Medical Boards and earned his license to practice again! He has worked as a volunteer doctor at the pediatric clinic twice a week ever since and loves it.  They love him, too, and recently honored him for his years of service. Watch a short video news clip of him Here.
3. Keep learning and trying new things. Since moving to Florida, my dad has continued his education by taking courses at the local college in global politics, history, music and art.  He reads novels, studies his medical journals and takes tests to earn his continuing education credits in medicine.  He learned to use the computer and keeps in touch with friends through e-mail like the rest of us.  Periodically, he uses Skype to see his first granddaughter and his three great grandchildren in San Diego. He and my stepmom go to museums, plays, and concerts and he calls to enthusiastically tell me about them.  This year he was excited to tell me that he has joined a choir (I never knew he could sing) and that they are giving local concerts of "old favorites."  He was thrilled about it.
4.  Stay connected with your family and the people you love. My dad was the 9th of 10 children.  His parents were one of the first Jewish families in the Hampton Roads, VA area settling there in the early 1900's.  His parents and siblings have all passed on.  On Sundays, my Dad calls his children and many of his nieces and nephews. Uncle Gene, as he is known, is still the one they call for medical advice.
5.  A life of service is its own reward. More than any other, this lesson sticks with me.  To be genuinely helpful to others and to make a difference in the lives of people around you gives me the greatest happiness and brings meaning and purpose to my life.  This is what I saw growing up — a life of service.
A friend of mine from elementary school just caught up with me on Facebook.  He was my father's patient and his mom worked at my dad's pediatric office as a nurse.  He said, "Tell your father that when I enrolled in medicare, I finally had to choose another doctor."  Like many of his patients, my friend wanted to keep seeing my dad as his doctor into adulthood.  Just last week I met a woman who grew up in Baltimore who figured out that I was Eugene Goldstein's son.  She couldn't stop talking about how he held a sacred place in their family's heart.  I hear this wherever I go.  A patient once gave him a framed drawing she had made of a little girl praying by the side of her bed.  The caption read, "…and God Bless Dr. Goldstein."
Thanks, Dad.
Feel free to leave a comment below.
24 responses to "Lessons From My Father"