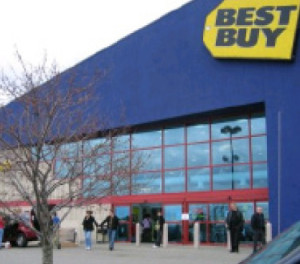 Over time, I have watched several big box electronics and appliance stores go out of business. I assumed it was because they couldn't compete with their online competition. I'm here to tell you that Best Buy is not going down without a fight.
The last time I went into the store, I noticed an immediate difference in their customer service. As soon as I walked in, a friendly young man came up to me with a big smile, and asked me how they could help me. As he walked me to the right department he let me know that Best Buy is more committed than ever not to be undersold—even by anyone online. "We'll match any price you can show us." I was amazed at such a bold offer from a retailer and somewhat doubtful of their promise considering how high priced their merchandise usually is.
George Creighton, the manager then came up to me and said, "I saw you locking up your bike outside." I ride a recumbent bike with an electric assist. My first thought was, "Uh-oh, he probably doesn't want me parking it right next to the entrance doors." Not so. He said, "That's a very nice bike. You don't have to leave it outside. Just bring it in here and we'll keep an eye on it for you while you shop." I stood there for a moment thinking, "Wait, what?" He was serious.
Part of the program I created called, Powerful Partnerships® is based on establishing partnerships with everyone you meet. George was doing that with me and I experienced partnership immediately.
I thanked him and though I didn't buy anything on that visit, I remember feeling very taken care of. I was impressed by their attention and their sincere desire for my business. I felt very open to the idea of coming back.
The next time I returned, I walked my bike right in through the double doors and parked it by customer service. The manager remembered me and smiled. I was shopping for a protective cover for my new tablet. I saw they had them in assorted colors on a rack. I walked over to George, the manager, and showed him an Amazon.com ad on my phone's browser for the same product priced 1/3 below his. I asked, "Will you really match this price?" He said, "No problem, come over here and I'll ring you up." That's just what he did.
I did have to pay local tax on the item but I didn't have to pay for shipping, so it was still quite a savings over what they usually charge. Do they have the variety of brands and styles I can find online?
No, but I like that I didn't have to wait for it to be delivered. All in all, I left feeling great about my purchase.
Since that visit, I've noticed that my loyalty to Best Buy has increased immeasurably. I want them to be successful, and I want to tell others about how I was treated and the great deal I was able to get with same day service. I'm inclined to send my business their way whenever I can. I was never a big supporter of Best Buy before, but now I am.
Providing real value coupled with great customer service = raving fan.
Been to Best Buy recently? I'd love to know what your experience has been with them.
Thanks,
-Jim.
P.S. Full Disclosure: No one from Best Buy offered me any incentive to write this article. I just felt inspired to do it from my recent experience.